With the beauty of nature as its backdrop, Island Treasure Villas offer its guests a tranquil island escape that provides all the comfort of home with the flair and amenities of a luxury hotel. A stay at this luxurious 3 bed, 2 baths villa provide guests with access to Richmond's private beach club, golf course, Club House and Infinity pool, Kiddies Park and Sports and Fitness Complex. Island Treasure Villas is a luxurious destination retreat that is suitable for small families and friends vacating in the area. Our villa sleeps six and comes fully equipped with all the wonderful amenities of home and so much more. All our bedrooms come with an air conditioning unit and our family room is fully equipped with an LED television, complimentary wireless internet and cable. Island Treasure Villas is located in the gated community known as Richmond that has 24 hour security and 24 hour access to all amenities mentioned. This community has a resort feel to it, which means that you will have all the experiences of staying at a local hotel, while still having the pleasure and feeling as if you are still at home. Richmond is located in Priory, St. Ann, only 15 minutes away from the hub of down town Ocho Rios and 45 minutes away from Montego Bay, Jamaica's second city. Our ideal location keeps you in close contact with nature and other scenic and adventurous attractions that are located close by. Such attractions include Jamaica's most loved and visited Dunn's River Falls; as well as other entertaining and fun filled destinations such as Dolphin Cove, Green Grotto Cave, Chukka Cove, Mystic Mountain, Seville Great House and Cranbrook Flower Forest, a beautiful and relaxing destination that will keep the whole family entertained.
Co mówią goście:
"Jeffery's miejsce było świetne i pomógł nam wszystko, czego potrzebowaliśmy. Bardzo podobał mi się pobyt tutaj nie mogłem prosić o lepszą wycieczkę. On jest niesamowitym gospodarzem i wszystko jest tak jak na zdjęciach, to naprawdę wspaniałe miejsce. Jedynym problemem, jaki mieliśmy, było sklep z artykułami spożywczymi na przednim wejściu do społeczności. Pewnego dnia po wyjściu rodziny z plaży zdecydowaliśmy się na przystanek na kilka rzeczy i zostawiliśmy trochę plażowych torberek w samochodzie z niczym cennym w środku, ale to nie powstrzymało kogoś od złamania szkła samochodu i kradzieży naszych torb tułowia. Sugerowałbym więc nie parkować tam, albo jeśli uważasz na czas i gdzie parkujesz."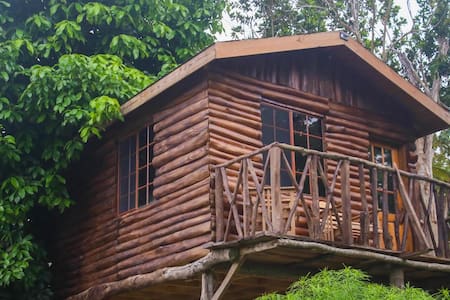 SUPERHOST
Domek na drzewie · 2 goście · 1 Łóżko · 1 łazienka
"Log thirty-tree" ..........an authentic log
This is a one off a kind listing. A "Log-Cabin-Treehouse," built from the beautiful blue mahoe logs. This comfortable self contained studio is complete with ceiling fan, hot water and other essential amenities for the comfort of the nature and fun lovers. Located in a gated community with 24 hours security with access to swimming pool and tennis court. Come "chillax" unwind and bond with nature in our one-of-a-kind log cabin treehouse.
Co mówią goście:
"Niesamowite miejsce na pobyt z zewnątrz! Zdjęcia nie są sprawiedliwe, spaliśmy jak niemowlęta otoczone naturalnym drewnem i aurą przestrzeni plus bawiliśmy się w basenie. PS to domek na drzewie i domek z bali i jest tego wart! Nasze media społecznościowe to uwielbiały! Everton był świetnym gospodarzem. Polecimy go wszystkim lol! :)"