OPEN TO ALL GUESTS AS OF THURSDAY, JUNE 4! ALL CASINOS WILL REOPEN THE SAME DAY! As facilities reopen, The Signature staff and our professional cleaning service are following steps recommended by the Southern Nevada Health District to reduce any further transmission in our communities. They are also following CDC guidelines including wearing disposable gloves, gowns, and masks for all tasks in the cleaning process, including handling trash. THE CLEANING FEE COVERS CLEANINGS CONDUCTED BEFORE AND AFTER YOUR STAY ONLY. Daily cleaning is available for a fee upon request. As service at the Signature has only just resumed at this time we do not know what amenities are available. It is recommend that guests get in touch with the concierge about what amenities are available as this may change daily. They can be reached at 702.797.6016. It is also recommended to bring a mask as different establishments will have different regulations. Welcome to your very own 500+ square feet of MGM Signature! Located on the 25th floor of Tower B, this unit has everything you need. When you arrive, enjoy free valet parking. After settling in, walk out onto the balcony for a coffee in the morning or enjoy a jacuzzi after a long day! All pictures of the unit are accurate and taken by us, so you can trust that you get what you see! If you look at the reviews from previous guests, you'll see that the views are incredible.
Co mówią goście:
"Podczas pobytu w Podpisach MGM masz to, co najlepsze z obu światów ... wystarczająco blisko, aby poczuć, że jesteś oddzielony od Las Vegas Strip i nocnego życia, kiedy chcesz, ale daleko, by oddychać i podziwiać widoki, aby poczuć spokój i relaks! Dziękujemy za posiadanie czystej i dobrze utrzymanej przestrzeni ... bardzo doceniamy!"
This is a 540 sq ft Vdara suite, comparable to a hotel room at Bellagio, Aria, or other units at Vdara. The pictures are of my actual unit. This is my personal condo that I live in when I'm in Vegas, but it has the feel of a hotel room. I don't leave any personal belongings out. Local law requires that the primary guest be age 21+.
Co mówią goście:
"Ten apartament jest idealny, jeśli jest to podróż służbowa lub prywatna i znajduje się dość blisko głównych węzłów komunikacyjnych i lotniska. Gospodarz reaguje, a proces zameldowania (jak w hotelu), sprawny! Życzę gospodarzowi powodzenia!"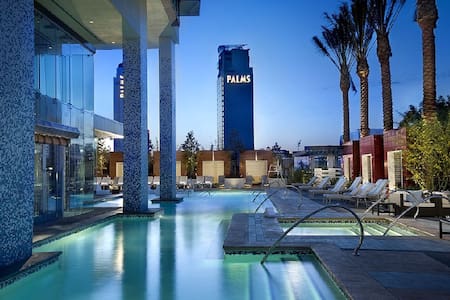 SUPERGOSPODARZ
Pokój hotelowy · 4 goście · 2 Łóżka · 1 łazienka
50th Floor Strip Views, Open Balcony No Resort Fee
This beautiful condo is located on a very high Floor of the Palms Place Tower facing the Las Vegas Strip. The best feature of this condo is the large balcony with expansive & breathtaking strip views. Palms Place Hotel and Spa is a full service boutique hotel. Comfortably removed from the non-stop action of the Palms casino, the ambiance of this tower is contemporary and elegant.
Co mówią goście:
"To mieszkanie jest takie nowoczesne! Absolutnie nam się podobało, wanna zawsze każe mi wracać do Palms, szczególnie u Olive. Wszystko było czyste, widok zapierał dech w piersiach, a zameldowanie i wymeldowanie było sprawne. Nie mieliśmy żadnych problemów i na pewno ponownie dokonamy rezerwacji u tego gospodarza. Czuliśmy się bezpiecznie i byliśmy w stanie uzyskać BARDZO miłe noce, łóżko jest bardzo wygodne."