The house has a long shape that's why we call it Tholihi, which is an Ancient Greek word with the same meaning. The neighboring area is called Vrahos meaning Rock and it offers us a splendid view overlooking the bay of Argostoli. The coast of Ligia is 5min away if you follow the pathway and just 3min driving. The coast of Limioni is 15min away on foot and 5min driving. On the front there is a big stone paved yard, two gardens and the parking area. The neighboor is rather quite.
Co mówią goście:
"Mały, ale ładny apartament wyposażony jest we wszystko, czego potrzebujesz. Bill jest niezwykle gościnny i chętnie pomoże w każdej sprawie. Dostaliśmy trochę drobiazgów do odbioru (świeże jajka, miód, ciastka itp.). Naprawdę czujesz się bardzo mile widziany. Widok i zachód słońca z tarasu są naprawdę nie do opisania piękne. Wrócilibyśmy w każdej chwili. Farsa to miłe miejsce, z dala od miejskiego zgiełku, więc tak mi się wydawało. Polecamy tawerny w wiosce, plaża jest kamienista, ale bardzo idylliczna. Podsumowując, świetnie się bawiliśmy z tym pakietem. Dziękuję bardzo !!"
LOCATION The house is located in the village of Farsa, 10 km from Argostoli and more specifically, on the beautiful Limioni site on the outskirts of the village, sloping down towards the sea. Upon one's arrival, the first thing that strikes one is the spectacular view. The house is situated on a hillside only 150 meters from the sea, overlooking the crystal blue waters and the gulfs of Lixouri and Argostoli. Geographically, Farsa is located strategically in the centre of the island, this being convenient for excursions to the beaches and many worthwhile attractions of the island. Thus, the visitor travels almost equal distances to all destinations:- Lixouri: 23 km / Sami: 28 km / Myrtos: 22 km / Fiskardo: 42 km / Skala: 42 km The house and its picturesque location ensure that your stay will be away from the hustle and bustle of the island's capital yet, at the same time near enough to Argostoli and the social life of the island should you prefer. There is easy and direct access to the beach – a mere 150 meters walk to the rocky bay of Limioni and a 3-minute drive to the main beach of the village, Ligia. The "old village" of Farsa with it's pre-seismic ruins, and breathtaking views is an outdoor history museum, being one of the better-preserved old villages on the island with a long sea-faring tradition and tales of piracy. A hike through the old village of Farsa may take two to three hours and you will get a taste of the old "pre-seismic" Kefalonia. It is said that it was here that Louis de Bernieres was inspired to write his famous novel, "Captain Corelli's Mandolin". THE HOUSE The apartment is 45 sq.m. and has a large, private patio with panoramic views of Lixouri and Argostoli and direct access to the garden. The house comprises a ground floor living room with open-plan kitchen/dining area, bathroom with shower, a bedroom with closet. Should one wish to use the one sleeper couch located in the living room, up to 3 persons can be accommodated. The apartment is ideal for families with children or couples. It is fully furnished and equipped featuring: a kitchen with necessary utensils and household appliances; Patio with pergola; Direct access to the garden; Air conditioning; Shared laundry facilities and Parking. THE HOSTS The hosts, my parents Dennis and Mary Papanikolatos and Dolly, a lovely and incredibly friendly dog, will be at your disposal for anything you need, always willing to help. We aim to make your stay so pleasant that you will want to return. We would like to welcome you and it will give us much pleasure to extend to you warm, genuine Greek hospitality. A special brochure, with information and suggestions for excursions, beaches and fine dining, designed and compiled by us with love and care, will be supplied to you on your arrival.
Co mówią goście:
"Możemy gorąco polecić mieszkanie. Jeszcze przed naszą podróżą byliśmy dobrze poinformowani. Otrzymaliśmy wskazówki na temat szlaków turystycznych i innych działań. Zostaliśmy powitani przyjaźnie i mieszkanie było zgodne z opisem. Czysto, schludnie, dobrze wyposażony. Byliśmy w mieszkaniu przez 10 dni. To bardzo ładne mieszkanie. Świetna lokalizacja z widokiem na morze Lixuri. Miał wszystko, co potrzebne do naszego pobytu. Naprawdę chcielibyśmy ponownie wynająć mieszkanie. Maria i jej mąż byli doskonałymi gospodarzami: pomocni i przyjaźni, a także dali nam pyszne domowe ciasto i dżem."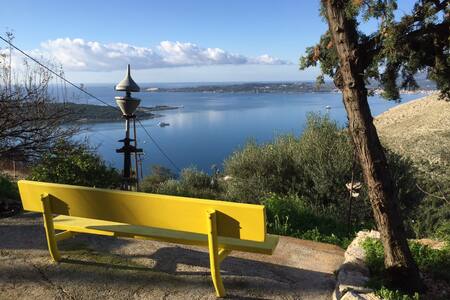 SUPERHOST
Cały apartament · 3 goście · 2 Łóżka · 1 łazienka
Art Studio Kefalonia-GINNI-hospitality-nature-art
Art Studio Kefalonia si estende su un terreno di 5000m2 sulle colline di fronte a Argostoli. Immersa nella natura incontaminata ma non lontana dalle spiagge e dalla città. Qui risiede Dimitri, noto artista, che ha trasmesso all'ambiente la sua magia. I quattro monolocali: GINNI, ARGO, ALBA e TRAMONTO, sono tutti con ingresso indipendente, angolo cottura attrezzato, bagno privato, balcone o terrazza vista mare. Per chi lo desiderasse, è disponibile la colazione a buffet per € 8 a persona.