Slow Food-Discover Scottish Ark of Taste
Slow Food-Discover Scottish Ark of Taste
Liczebność grupy
Do 8 osób
Obejmuje
Jedzenie, Napoje, Wyposażenie
Slow Food-Discover Scottish Ark of Taste
Slow Food-Discover Scottish Ark of Taste
Liczebność grupy
Do 8 osób
Obejmuje
Jedzenie, Napoje, Wyposażenie
On arrival we welcome you with refreshments and tasty morsels then you experience a cookery show and workshop of specialty foods, including some of our rarest, all under one roof - an incredible Scottish food heritage for you to discover. Hear stories, see images and above all taste the produce with us at our seaside studio. Have you ever tasted North Ronaldsay Sheep who only eat seaweed on the shore? Seafood air-dried in the wind or honey from one of the rarest species on the planet? Explore their unique provenance, flavours and food history with an interactive cookery demonstration where you can join in cooking, rounding off the day with an Ark of Taste lunch. Our seashore kitchen garden is organic, with many Ark of Taste varietals, and plays an essential role in our courses and recipes. Everyone leaves with my signed cookbook plus a folder including local links to farm shops and places to eat with Slow Food principles. Testimonials "For all of us, it wasn't just about the food. It was my first-hand look into Slow Food of reared beef and fresh produce, and the wonderful farm people and the community it supports." J. Kim, Hawai "…bringing their knowledge of food, farming and local produce to the table was an absolute treat. For a good price and some good knowledge … and a stunning location, you'd be silly not to give it a try... Well Done guys!" J. Davidson, Perth
Professional cook & Scottish Thistle Regional Ambassador Winner, I love the world of food. My 'day job' covers food festivals, education, commissioned articles, publishing Scottish Food Guide & Scottish Cheese Trail. I present cookery shows across UK and Scandinavia. Inspired to collaborate with kindred spirits, I created my Guides in 2002 & won Catering in Scotland Food Tourism Excellence Award 2yrs later. Biodiversity & food heritage are non negotiable for us! I am Scotland's Leader for the Ark of Taste & SF Cooks Alliance Member. My husband Bosse is a Swedish expert in heritage farming & breeds. Together we have a depth of knowledge of Scottish & Nordic food culture. We live in our seaside cottage, self-built in the 90's with the help of my Dad. In 2014 Bosse & I transformed it into our Nordic food studio, where we run the workshops.
We współpracy z Slow Food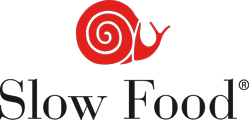 Ta atrakcja została stworzona zgodnie z zasadami idei Slow Food, zgodnie z którą jedzenie ma być przyrządzane z wysokiej jakości, świeżych produktów od odpowiedzialnych społecznie producentów dbających o zrównoważony, ekologiczny rozwój.
Slow Food to globalna organizacja społeczna, którą utworzono w 1989 roku. Ma ona na celu zapobiegać zanikaniu lokalnych tradycji kulinarnych oraz przeciwdziałać popularyzacji kultury fast food. Od momentu powstania przeobraziła się w światowy ruch społeczny, który dąży do tego, by wszyscy mieli dostęp do dobrej, czystej, tradycyjnej żywności. Twój wkład, oprócz wsparcia gospodarza, pomoże Slow Food wdrożyć projekty na całym świecie, które mają na celu wzmocnienie pozycji lokalnych społeczności, promowanie regionalnych rolników i producentów oraz wspieranie rozwoju szkolnych ogrodów i projektów edukacyjnych.
To jest atrakcja charytatywna – 100% Twojej opłaty przekazujemy organizacji Slow Food.

Many samples will be available for tasting then Slow Food Ark of Taste Lunch, al fresco if weather permits.

A Slow Food selection of non alcoholic drinks including foraged cordials/specialty fruits.

Every guest will go home with a signed copy of my cookbook as a gift.
Sekcja nawigacji dla stron recenzji
Welcome to our seaside studio, built to my quirky specifications complete with the only Swedish log stove in UK! On Fife's Coastal Path with stunning panoramic views of Edinburgh as far as the Forth Rail Bridge, a Unesco World Heritage site. Excellent road & rail links from cities, the train trip from Edinburgh is 30mins. Meet you at the station or take 10min walk around shore path to our studio. Car parking free. Lunch can be outdoors if sunny!
Aby otrzymać pełny zwrot, anuluj rezerwację w ciągu 24 godzin od jej dokonania lub najpóźniej 7 dni przed planowanym rozpoczęciem atrakcji.
Zasady dotyczące komunikacji
Zawsze komunikuj się za pośrednictwem Airbnb. Aby chronić swoje płatności, nigdy nie przekazuj środków ani nie komunikuj się poza aplikacją lub stroną Airbnb.
W atrakcji może wziąć udział maksymalnie 8 gości. Muszą oni mieć ukończone 18 l.
Please advise me on booking of any allergies or pet hates foodwise! The final track is rough underfoot so low or no heels advised. I am happy to pop up and meet you on foot or in my car.
Slow Food-Discover Scottish Ark of Taste